Add to favorites
Who doesn't love an indulgence yet alone a carb filled one. Having that flaky croissant, that blissful slice of cake, a warm toasty scone to go with your coffee, or those simply delicate and dainty desserts that just melt away your problems – well you won't need to look too far to get your fix. Vancouver has a ton of great places to get baked goods. 
Here is our list of the best bakeries in Vancouver that are guaranteed to give you a major carbgasm:
21  Grounds for Coffee
President and Founder, Dan Hilton, started Grounds for Coffee in 1993, just as "Vancouver's coffee culture was beginning to pick up steam, and settled in to the business of developing a knockout cinnamon bun recipe from scratch." And you know, that's exactly what happened!

To this day Grounds for Coffee still sells their amazing "buns", which are made by hand with locally-sourced ingredients (they sell them to hundreds of locations across BC and Alberta). Know as "the buns" the care and precision taken into making each individual one requires a lot of patience and love. Better yet they're topped off with a vanilla-bean cream cheese icing and served fresh!
Location: 2565 Alma St, Kitsilano
Hours: Daily 7am to 6pm
Website: groundsforcoffee
IG:  @groundsyvr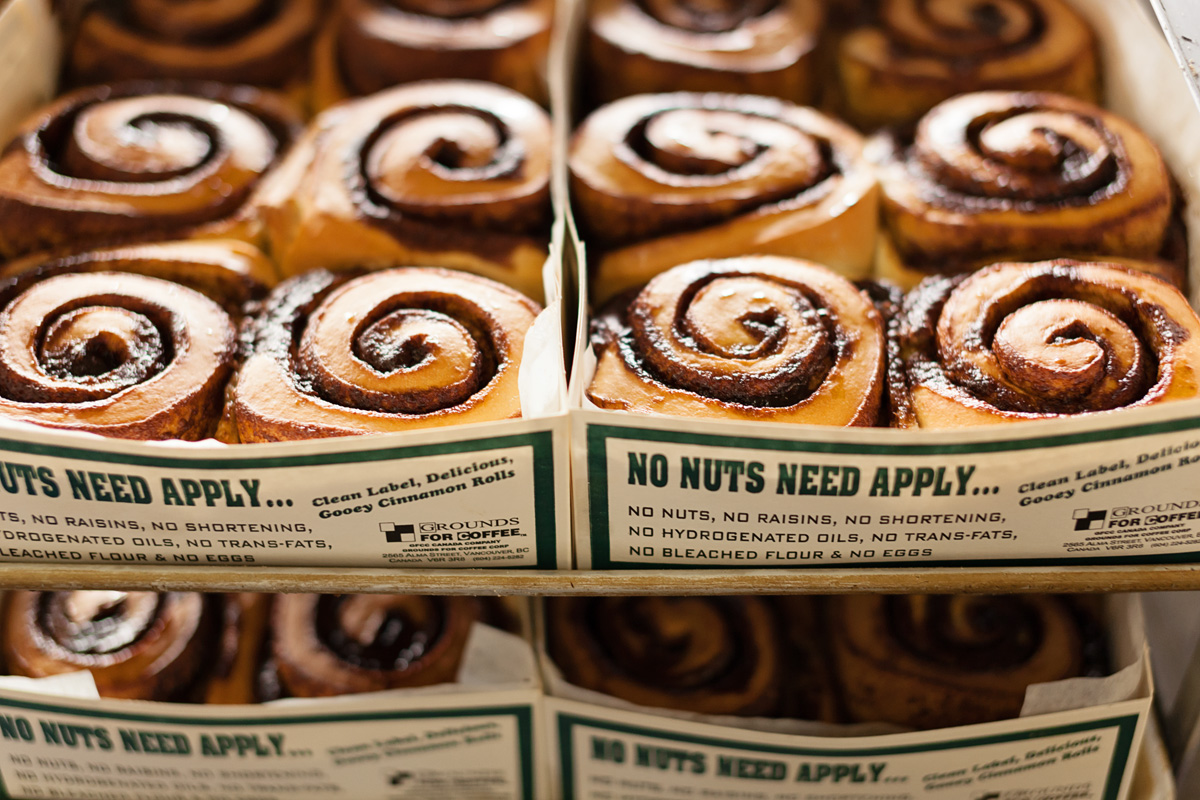 20  Temper Pastry
At Temper their philosophy "is to ensure our customers will encounter an experience that will leave your taste buds wanting more." This gourmet chocolate and pastry shop offer some of the finest in pastry and dessert delights.

Owner and chef, Steven Hodge's is the maker and baker so-to-speak behind Temper Pastry, striving for perfection in every bite. They use only the highest quality ingredients, their handcrafted chocolates are decadent, while their pastries and desserts melt-in-your-mouth.
Location: 2409 Marine Dr, West Vancouver
Hours: Daily 8am to 5pm
Website: www.temperpastry.com
IG: @temperpastry

19  The Last Crumb Cafe
Spacious and relaxed, Last Crumb is going to make you feel like you're right at home. This cafe is dedicated to bringing you North American treats that are going to remind you of your childhood days – how perfect and sentimental is that?

Owned by two sisters who are evidently obsessed with food, they have created some amazing sweets to nibble on; such as their pies, loaves, bars, and sandwich cookies… not just an ordinary cookie – one that has buttercream filling inside. #getinmymouth 
Location: 3080 Main Street
Hours: Tues-Fri 8:30am to 5pm, Sat 9am to 5pm, Sun 9:30am to 5pm, CLOSED on Monday
Website: www.lastcrumb.ca
IG:  @lastcrumbcafe
18  Thierry
Voted "Best Desserts" and "Best Pastries" in Vancouver, Thierry offers a contemporary approach to the finest handcrafted chocolates, macarons, pastries, and desserts.

Their chocolates are indicative to the traditions of France – while focusing on the finest ingredients when creating each drop of goodness. Thierry strives on using fresh fruits and zets, premium hazelnuts, maple syrup directly from Quebec, and clearly the vest best chocolate. They even have a "chocolaterie" kitchen, which allows them to make precise, small batch chocolates perfect for each customer.
Location: 1059 Alberni St, Downtown 
Hours: Mon-Fri 7am to 12am, Sat-Sun 8am to 12am
Website: www.thierrychocolates.com
IG:  @thierrychocolat
17  Fratteli Bakery
With two locations – one in Vancouver, the other in New Westminster, Fratteli first opened its doors in 1997 on Commercial Drive, and are still going strong to this day. This award-winning bakery has a reputation for making some tasty treats.

All of their recipes are completely original and all their ingredients are fresh. This has allowed them to create some of the best Italian pastries, cupcakes, biscotti, and breaks in town. If you're not in the mood for a slice of cake or pie, they have a ton of pastries and squares to choose from – there really is something for everyone.
Location: 1795 Commercial Drive
Hours: Sun + Mon 9am to 4pm, Tues-Sat 9am to 5:30pm
Website: www.fratellibakery.com
IG: @fratellibakery
16   Transylvanian Traditions Bakery 
One of the most unique bakery experiences you'll have in the city, stepping into Transylvanian Traditions Bakery is like stepping into the old world where you'll find authentic European desserts with a fun twist – literally. They're famous for their Chimney Cake, a tubular, stacked, Hungarian dessert rolled in granulated sugar, also known as a Kürtőskalács. Kürtőskalács date back to the 14th century. It doesn't get more OG than that.
Location: Davie Street 
Hours: Daily 11am to 9pm
Website: transylvaniantraditions.com
15  Tartine Bread and Pies 
"I love you honey pie."  If you ever get a hankering for pie, pay a visit to Tartine.  Sour cherry, salted caramel apple, lemon meringue, blackberry apple crumble, maple cream apple, raspberry rhubarb ginger, and dutch apple (OUR FAVOURITE.)  Like pumpkin?  Well, you're in luck.  Take your pick of of classic pumpkin, smashing pumpkin, chocolate pumpkin, pumpkin praline, and even a vegan pumpkin pie! Bring one of their pies to your next dinner or office party – guaranteed it'll be a hit.
Location: The West End
Hours: Daily 7am to 7pm
Website: tartine.ca
IG: @tartinebreadandpies
14  Creme de la Crumb 
This bakeshop x cafe x catering company serves up the creme de la creme, particularly when it comes to scones. And if you know anything about scones, you know a good one can be hard to come by.  The scones at Creme de la Crumb are fresh, moist, flavourful, and definitely filling. Aside from scones, they also offer loafs, muffins, cookies, cake, sandwiches and all that good stuff. They also make a wicked good espresso!
Try the Apple and Cheddar and the Vanilla Bean and Pear scone.
Location: Granville Street
Hours: Mon-Fri 6:30am to 5pm 
Website: www.cremedelacrumb.com
IG: @cremedelacrumb
13  Trafiq 
FACT: You haven't had CAKE 'til you've tried cake from Trafiq! Popular amongst locals, this chic, European-style cafe on Main Street gets a lot of traffic and rightfully so.  Aside from their irresistible cakes, the ambiance and service here is second to none.  A great place to sit down on your own or with a group or just to swing in for a treat to go! A few of our favourites include the carrot cake and the earl grey cake (sweet baby Jesus!)
Cakes are sold by the slice or in 6 or 10 inch round sizes.  (Why limit yourself to a single slice though?)
Location: Main Street 
Hours: Daily 9am to 6pm
Website: trafiq.ca
IG: @trafiqmain
12  A Bread Affair 
We have quite the love affair with this Granville Island Bakery. A West Coast bakery with West Coast values, the goods at A Bread Affair are all made using environmental and sustainable practices and free from GMO's without compromising on flavour.  Each bread is a true display of artisan craftsmanship and baked in small batches.
While the brioche is arguably one of the best in town, the pastries hold their own. The chocolate croissant is exceptional and the Better than Sex brownie really is, better than sex.
Location: Granville Island
Hours: Mon-Thurs 8:30am to 7pm, Fri-Sun 8:30 am to 7:30pm (Including Holidays)
Website: www.abreadaffair.com
IG: @breadaffair
11  The East Village Bakery
Located in Vancouver's East Village, back in 2012 East Village Bakery voted "Best Patisserie in the city". This bakery is specific on baking gluten-free pies, with over 60% of their customers being gluten intolerant.  They also have a wide variety of cookies, cakes, and breads that are made from their own proprietary flour blend.
Location: East Hastings
Hours: Daily 9:30am to 6:00pm, CLOSED on Monday
Website: Eastvillagebakery.com
10 The Sweet Spot Bakery

The Sweet Spot Bakery offers quaint patisserie, house-made french pastries, viennoise, cookies, confections, savories & meals-to-go which include ice creams churned on site.

The owner's Kirsten and Keiran met while working together at the Opus Hotel, and the rest is history. Wanting to combine forces, and create a unique gourmet shop filled with quality products, they opened in fall of 2010. They put care and pride into everything they do – but seriously, who doesn't love desserts packaged to go alongside some ice cream?

Location: Steveston Village
Hours: Wed-Sat 8am to 5pm, Sun 9am to 4pm, CLOSED Mon + Tues 
Website: Thesweetspotbakery.ca

IG: @thesweetspotbakery 
9  Purebread
This bakery is serving up over 20 types of bread alongside cakes, cookies, and galettes. This Whistler-based family bakery had one mission in mind: "to bake delicious bread, savouries, cakes & treats that bring a smile to people's faces."

With an array of local support they currently have three bakery stores, including their location on Hastings. Stop by for a slice of raspberry riot topped with hot pink raspberry lemon drizzle, some wicked good chocolate brownies, caramelized banana, macaroons, cakes, the list goes on!

Location: W Hastings
Hours: Daily 8:30am to 5:30pm 
Website: http://www.purebread.ca/
IG: @purebread_canada
8  Lemonade Gluten Free Bakery

Situated in the heart of Cambie Village, Lemonade Gluten Free Bakery is as they say your must go-to for all things baked that happen to be gluten free – or was the bakery name too obvious? Head pastry chef, Tracy Kadonoff is the brainchild behind this bakery – and her background and numerous awards show this girl knows her stuff.

Regardless if you have an intolerance to gluten or not, after trying Tracy's goodies, you will be itching to try more things gluten free. Come check this bakery out, grab a glass of lemonade and dig into some delicious treats.

Location: Cambie Street
Hours: Mon-Wed 9am to 6pm, Thurs-Fri 9am to 7pm, Sat 9am to 6pm, Sun 10am to 5pm 
Website: http://www.lemonadebakery.ca/
*also a few gluten recipes on the website

IG: @lemonadeglutenfreebakery
7  Bel Cafe
Located in the fancy Rosewood Hotel Georgia, Bel Cafe is the perfect spot to sip and snack on some delicious treats and eats. Not only does this cafe serve sandwiches, salads, and soups – the most important is their sweets menu.
Know for their macarons that are $2 each, you can choose from an array of colours and flavours. Besides these tasty two biters, Bel Cafe offers flaky pastries, tarts, and cookies.
Location: Rosewood Hotel Georgia
Hours: Mon-Fri 6:30am to 5:30pm, Sat-Sun 7am to 5:30pm
Website: https://belcafe.com/
IG: @hawksworthrest 
6  Two Daughters Bake Shop
What started as a passion and then turned into a dream back in 2011 – it wasn't long after this owner and mother Lisa, saw her daughter get diagnosed with celiac disease. Lisa was determined to change the baking business into something everyone could enjoy.

This bake shop has a great meaning behind it but also some great treats to indulge in – try anything from their cookies, mini donuts, granola bars, cakes, pies, even a holiday classic, the nanaimo bar! If you can't make it into their shop, other bakeries in Vancouver carry their goods!  

Location: North Vancouver
Hours: Mon-Fri 10am to 6pm, Sat-Sun 10am to 4pm  
Website: http://www.twodaughtersbakeshop.ca/
IG: @twodaughtersbakeshop
5  BETA5 Chocolates and Pastries
As said by the shop's name, BETA5 Chocolates and Pastries is known for two sweet treats that are crafted by Adam Chandler, their pastry chef and chocolatier. Named as one of North America's Top Ten Chocolatiers, they have received numerous International Chocolate Awards, and have been recognized nationally and internationally for their work. The delicious treats are just as stunning to look at – almost too pretty to eat.

For instance their cream puffs aren't just your typical cream filled shells. The puffs at BETA5 are filled with a variety of creams and custards, with each looking as spectacular as the next. With a signature collection as well as a seasonal one, be sure to check them out before your favourite treat is gone. Trust me – these are not your average desserts.
Location: Industrial Ave
Hours: Tues-Fri 10:30am to 5:30pm, Sat-Sun 10:00am to 5:00pm, CLOSED Monday
Website: http://beta5.myshopify.com/
IG: @beta5chocolates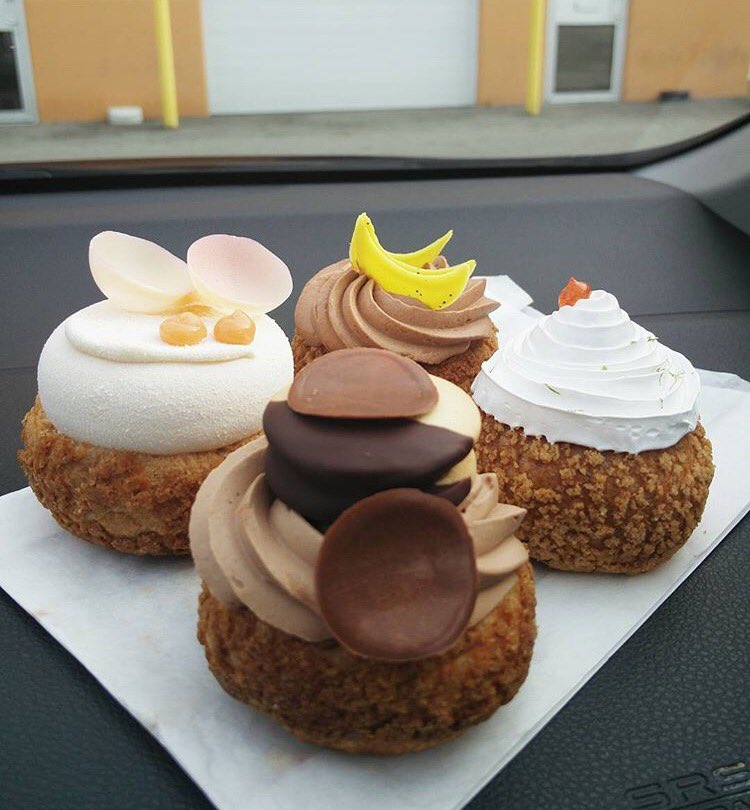 4  Beaucoup Cafe & Bakery
Since opening back in 2012, Beaucoup continues to be a go-to place to indulge amongst locals. Only housing 16-seats, this cafe is setting the bar high will their exceptional French-inspired pastries and childhood favourites.

Their croissants have been votes as some of the cities best in Vancouver magazine. However, this cafe and bakery is serving up some mean cookies… Try their chocolate rosemary cookie; it's fudgy and the rosemary gives it a unique and distinct flavour. You also can find other artistic cakes, seasonal tarts, rich viennoiserie, and other pastries that suit your taste buds, you won't be disappointed.

Location: Fir Street
Hours: Tues-Fri, 7am to 5pm, Sat-Sun 8am to 5pm, CLOSED Monday 
Website: www.beaucoupbakery.com

IG: @beaucoupbakery
3  Mosquito Dessert
Mosquito has said before that they are "a champagne bar without the caviar. A dessert bar without the frosting". It's safe to say just by the presentation of their desserts that you are in for a truly unique experience.
I will mention this is not your ordinary "bakery" or somewhere we you probably would indulge in a ton of carbs, as the price would add up – but for a higher dining carbgasm – this is the place to check out. Try out some of their macarons – like the olive oil and rosemary, or oolong tea.
Location: Gastown
Hours: Wed-Thurs 5pm to 11pm, Fri-Sat 5pm to 12am, Sunday 5pm to 11pm, CLOSED Monday + Tuesday
Website: http://mosquitodessert.com/
IG: @mosquitodessert
2  Bakery Sate
Just walking into this shop – the smells and sights you take in are drool worthy. Head Pastry Chef and Owner, Eric Ho is making and baking everything on-site. Everything is all natural, with no artificial flavouring. Trained in professional french style pastry and baking, every morsel is the perfect bite.
Whether you're in the mood for a pastry, cookies, and individual sized cake, Bakery Sate is the perfect place to get your carb fix on. (*gluten free options available)
Location: Commercial Drive
Hours: Tues-Sat 7:30am to 7pm, CLOSED Sunday + Monday
Website: http://www.bakerysate.com/
IG: @bakerysate
1  Cadeaux Bakery
Priding themselves on providing high quality baked goods, desserts and frozen treats made with natural and locally sourced ingredients, Cadeaux is not skimping out on their ingredients, including the butter. All their products are seasonal and created on-site; they even provide custom cakes and catering options.
If you're in the area be sure to pop inside and try from their array of mini desserts, a flaky Danish pastry, a chocolate croissant, or even a slice of London Fog cake – mmm, your favourite tea in a dessert form!
Location: Powell Street
Hours: Tues-Fri 8am to 6pm, Sat 8:30am to 6pm, Sun 9am to 5pm, CLOSED Monday
Website: www.cadeauxbakery.com
IG: @cadeauxbakery
Did we miss any? Let us know!
By: Samantha Lenz
IG: