Add to favorites
Let's be honest – the majority of us have yet to transition into Spring weather mode, mainly due to the fact we just had snow. Yes, I said snow, in March. Spring is always such an exciting time – the weather starts (hopefully) warming up, the arrival of fresh tulips, and of course the wardrobe changes! Vancouver has so many wonderful things to offer during this season; from picnics in the park, hikes, and of course your typical indoor activities because let's be honest we never how unpredictable our weather is.
Here is our list of some of the best spring activities you can enjoy in the city:
8 Whale Watching
The whale-watching season has officially begun. It's been known that the spring months are the best for you to be able to see these amazing and magnificent creatures in their natural habitat. Experience the thrill of being on the water and get a glimpse of the orcas and gray whales.
Website: Vancouver Whale WatchWild Whales Vancouver

7 Have a Picnic in Stanley Park
We know there are plenty of parks and gardens in the city, but nothing compares to Stanley Park. Pack up your favourite snacks and munchies, some nice bubbly or that fancy juice you always want to buy, close friends or family, and a nice big blanket. There is nothing like spending your afternoon with loved ones enjoying the outdoors.
Website: http://vancouver.ca/parks-recreation-culture/stanley-park.aspx
6 Kayak on False Creek
Right in the heart of Vancouver, the False Creek inlet is the ideal place to pull out those dusty kayaks. Take a tour with Ecomarine Paddlesports Centre – where you're bound to see seals, eagles, otters, and a ton of fish. You'll be able to view downtown in a completely different way – and you won't be disappointed.
Website: www.creeksidekayaks.ca/

5 420 celebration
**Adults Only**
This is one of the largest annual celebration the city sees each year. All things having to do with marijuana takes place at the Vancouver Art Gallery on April 20th. If you aren't a supporter, or cannot handle the smell we strongly advise you avoid the surrounding Robson Square and Art Gallery area.
4 Have Dinner on a Patio
We may be jumping the gun a little early on this one right now – but here's to hoping. Once the sunshine starts to come out and it becomes warming, dining outside has to be one of my favourite things to do. Enjoy the crisp breeze and get some people watching in. Restaurants such as Bridges, Blue Water Cafe, and Joe Fortes are a few that have great patios with an excellent view.
3 Bike-ride along the seawall
It doesn't matter if you rent or own a bicycle – every Vancouverite or local has to do this at least once in their lifetime – if not more! A great way to see the city, get exercise, and enjoy being outdoors. Grab a buddy or let yourself have some quality "you" time and enjoy biking along the seawall.
>For bike rentals: www.spokesbicyclerentals.com/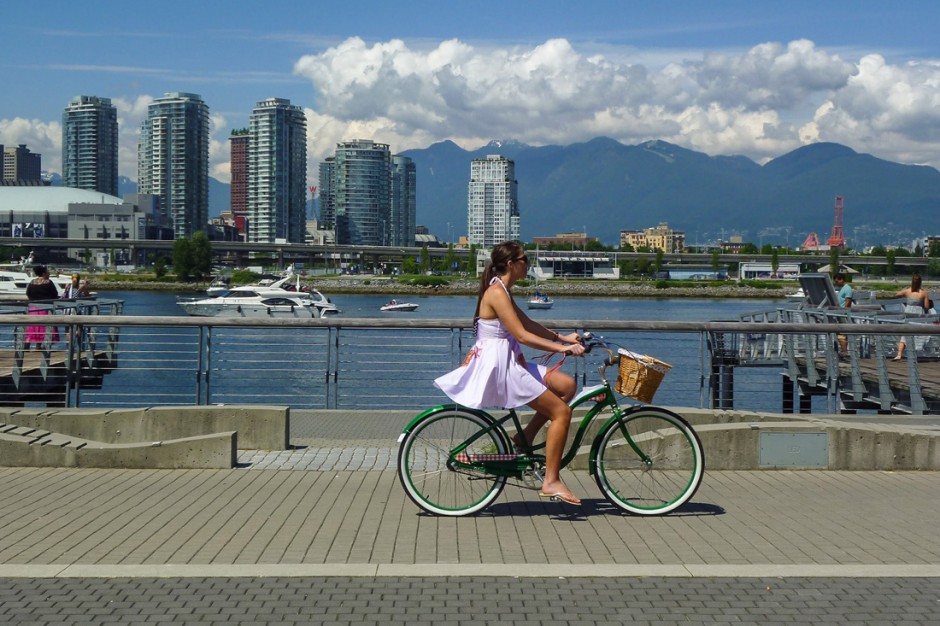 2  Cherry Blossom Festival
Taking place from March 30 – April 23, 2017, Vancouver Board of Parks and Recreation holds the annual Cherry Blossom Festival. The event takes place outside through the streets and parks of the glorious city. Many people will take their own self-guided tour and take their time seeing the glorious streets filled with these pretty pink flowers.
1 Go on a Hike
The Chief is probably one of the most popular hikes in and around the lower mainland. Don't get too worked up if this is too challenging or more then you want to take on – Vancouver has plenty more for you to try and or attempt.
The Grouse Grind is also another great option if you're looking to do something in a shorter amount of time, plus you get a free lift down. Hiking is a great pastime you can enjoy yourself or to bring a buddy or few along.
Did we miss anything?! Let us know!
By: Samantha Lenz
IG: @snlenz