Add to favorites
Sipping on mimosas and Caesar's while indulging in mile-high piles of powdered french toast or a comforting eggs benny needs to be a daily thing.  
Luckily for you (and us), Vancouver is serving up brunch all week long at a few of your soon to be favourite locations. Take a look at the list:
7   Jam Cafe
At Jam Cafe, breakfast and lunch is served all day – AND everyday, not just weekends. This unique menu will have you wanting to come back often to try out their broad selections. Serving up classics like your eggs benny, try something more indulgent like the red velvet pancakes or better yet, their green eggs and ham!  

Location: 556 Beatty Street, Vancouver
6 Havana Restaurant
This place is extremely unique as it houses a restaurant, theatre, and gallery all under one roof.  This joint also serves up weekday brunch 7 days a week until 2 p.m. Be sure to try their customer-favourite – Huevos Rancheros which includes three eggs, black bean chili, salsa, sour cream, and much more goodness! At Havana's you'll definitely be staying for more than just their brunch.

Location: 1212 Commercial Dr
5   Edible on Granville
At Edible anything and everything on their menu is sure to delight your tastebuds. The brunch menu features classic "breakfast" style items as well as more interesting selections like the cod & chickpea pakoras and falafel burger.

In addition to serving up good food, Edible's mission behind their company is endearing – they want to support the growth of Canada's culinary collective, creating more opportunity for all those who help shape the face of Canadian food.

Location: 1596 Johnston Street (on Granville Island)
4  Au Comptoir
For all you fancy folk who love the idea of their brunch to be the best of the best – Au Comptoir is going to be your new go-to. Serving up daily brunch or I should say "le brunch", grab yourself a mimosa and enjoy the atmosphere with you wait for your chocolate croissants and duck confit.

Location: 2278 W 4th Ave.
3   Yolks
This place is serving up brunch how every other place should be! Weekday brunch is served Monday – Friday 8 am – 3 pm and at Yolks – you can build your own Benny-style sandwich! (What could be better then that?)
Besides a benny, go for chicken and waffles, french toast, or indulge in some lemon-truffle hashbrowns.  Our go-to hangover-cure spot.  

Location: 1298 East Hastings St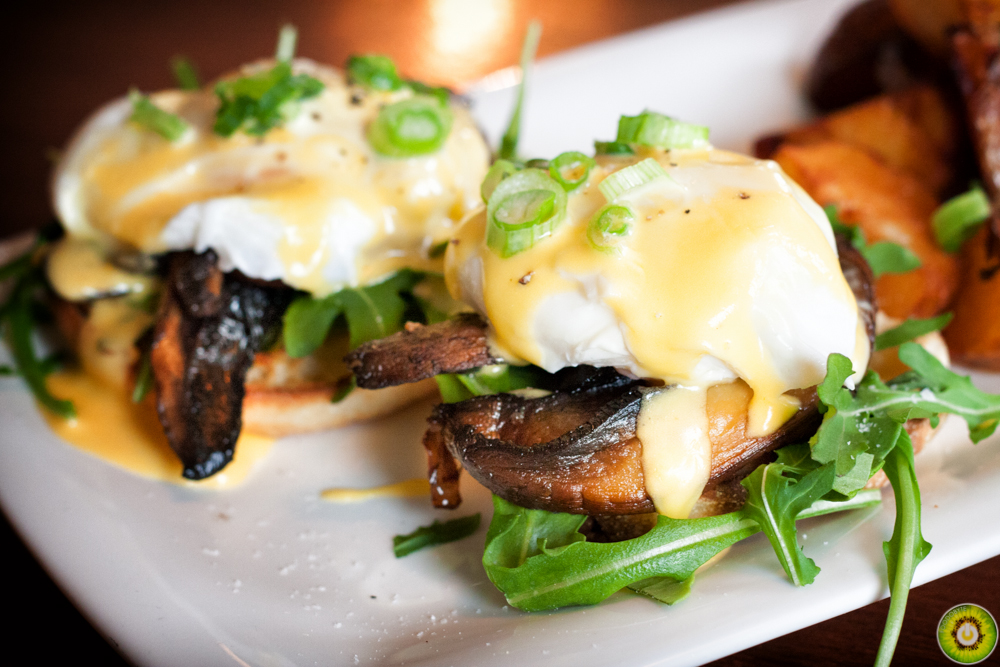 2  Red Wagon Restaurant
Brunchin' is a habit at the famous Red Wagon Cafe!  If you're looking for comfort food – with brunch built right in, you won't find anything better. Instead of going the typical route of pancakes with maple syrup, opt in for their pulled pork pancakes smothered in Jack Daniel's syrup! For those who are vegan – try their tofu scramble!  
Location: 2296 East Hastings
1  Aphrodite's Organic Cafe
For all you vegans, vegetarians, and gluten free lovers out there – we didn't forget about you! Try a tofu scramble or goddess bowl: orange scented quinoa, blueberries, toasted coconut, granola, yogurt, chia pudding, and seasonal fruit. The perfect, guilt-free way to start your morning!
Weekday brunch here is served daily until 3 pm.
Location: 3605 W 4th Ave
By: Samantha Lenz
Instagram: @snlenz
Twitter: @SamanthaLenz
Also check out  CHAT AND CHOUX| South Granville's Newest Brunch Spot
Did we miss any? Let us know!